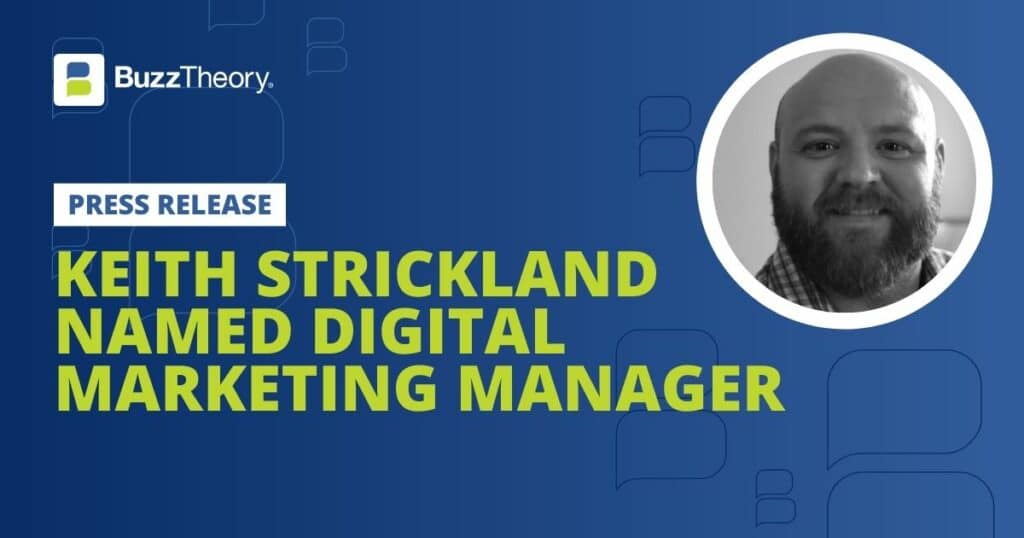 PHOENIX – JULY 25, 2021 — BuzzTheory, a full-service marketing strategy and consulting company specializing in the channel, announced the promotion of Keith Strickland to digital marketing manager. Strickland joined BuzzTheory in 2020 as digital marketing specialist.
With more than eight years of experience in digital marketing, Strickland began his career working in social media management and project management. In addition, he has experience in web design and programming, copywriting and CRM. He has worked for agencies and as a consultant in the B2C space.
For BuzzTheory, Strickland manages all client search engine marketing efforts, including SEO and PPC advertising. In addition, he supports the creative department and manages some internal clients.
"Keith's skillset and diverse agency and client experience in digital marketing and brand management dovetail perfectly here at BuzzTheory," said Casey Freymuth, managing partner, said. "His desire to learn and grow in his field is an advantage to our clients and our team."
"It's been amazing to learn about the channel alongside the BuzzTheory team," Strickland said. "The channel is a great space to do what I love to do, and each day and project is something new."
A graduate of Arizona State University, Strickland is a member of Alliance of Channel Women and enjoys weight training, golf and fitness in his free time.
About BuzzTheory
BuzzTheory is a leading content, channel and revenue marketing firm serving technology companies. We help you build, grow and monetize relationships with customers, sales partners, investors and the media. A study by Forrester named BuzzTheory one of the five most recommended channel marketing and PR firms in the world. For more information, visit: www.buzztheory.com
Media Contact:
Khali Henderson
Senior Partner
BuzzTheory
480.999.5297
khenderson@buzztheory.com