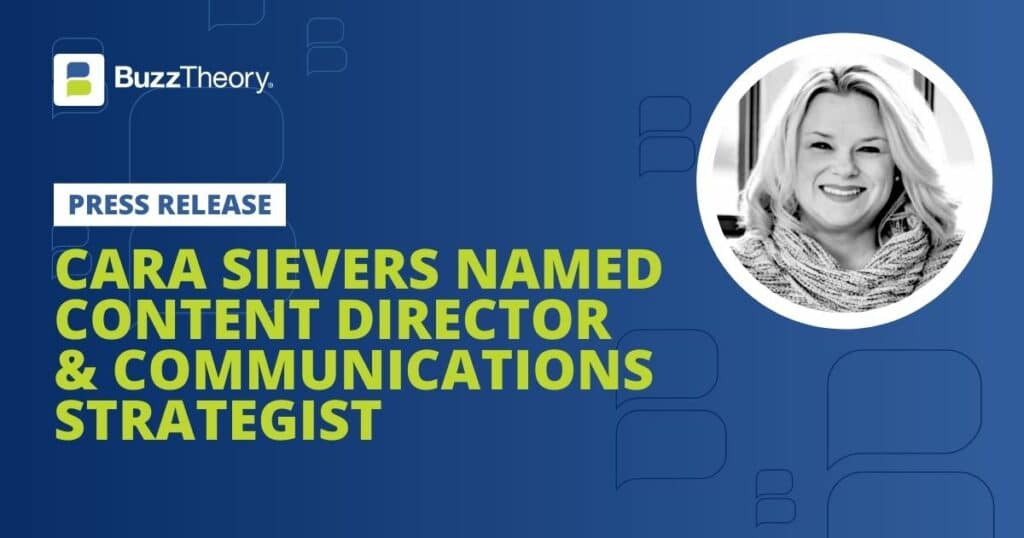 PHOENIX – September 15, 2021 — BuzzTheory, a full-service marketing strategy and consulting company specializing in the channel, announced today that Cara Sievers has joined as content director and communications strategist.
Sievers has extensive marketing, public relations and editorial experience. She is well-versed in marketing and communications strategy, journalism (including trade and consumer publications), editing, executive and internal communications, branding, media coaching and training, crisis communications management, and employee and partner engagement. Sievers has in-depth training and certification in change management. She has worked for global and emerging brands, non-profits and agencies.
"Cara's background in channel publications, and her cumulative communications experience in diverse business sectors and organizations, make her ideal to lead and refine BuzzTheory's growing content team," said Khali Henderson, senior partner. "Plus, she's one of the most creative and intuitive women I know, and we're thrilled to have her on board."
"I first met Khali and many members of the Buzz team when I lived in Phoenix and worked with them in the channel," Sievers said. "It's really amazing to connect with them, years later, and to be a part of this talented team."
Outside of BuzzTheory, Sievers is involved in many community and volunteer initiatives, including as a commissioner for the Public Art Commission for Germantown, Tenn.; a Sustaining member of the Junior League of Memphis; a contributing writer for the Memphis Mom Collective; and on the board of directors for her children's school.
She is a graduate with honors from the University of Tennessee, Knoxville (B.S in Communications, Public Relations) and Auburn University (M.A. in Communications and Journalism). Sievers lives in Memphis, Tenn., with her husband and two sons, where she loves to paint and create art in her "free" time.
About BuzzTheory
BuzzTheory is a leading content, channel and revenue marketing firm serving technology companies. We help you build, grow and monetize relationships with customers, sales partners, investors and the media. A study by Forrester named BuzzTheory one of the five most recommended channel marketing and PR firms in the world. For more information, visit: www.buzztheory.com
Media Contact:
Khali Henderson
Senior Partner
BuzzTheory
480.999.5297
khenderson@buzztheory.com