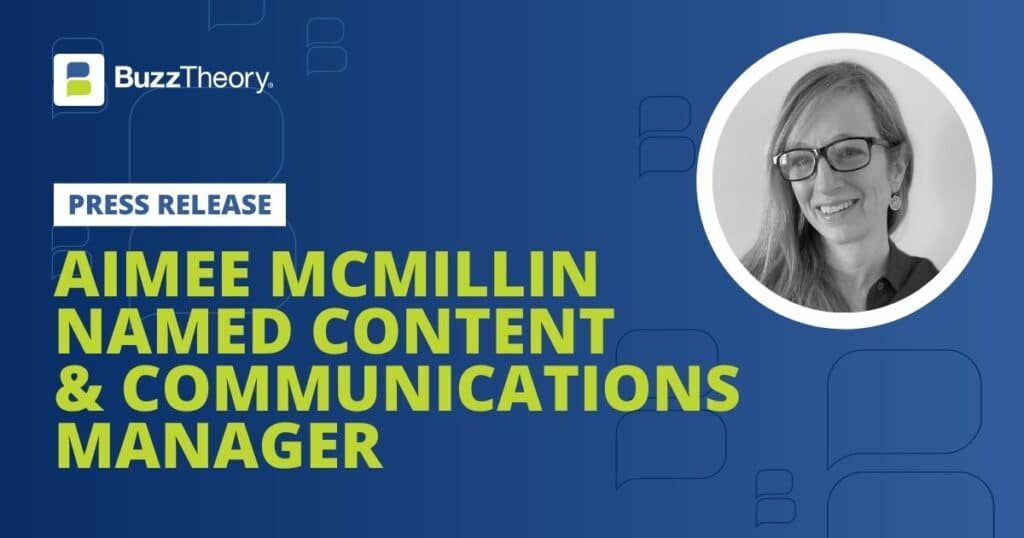 Marketing Veteran Brings PR and Communications Prowess to High-Tech Channel Marketing Agency
PHOENIX – January 18, 2022 — BuzzTheory, a full-service high-tech marketing strategy and consulting company specializing in to- and through-channel marketing, announced today that communications veteran Aimee McMillin has joined as content and communications manager.
McMillin has extensive experience in all aspects of communications from public relations, internal and external communications, reputation and crisis management, branding, audience research and development, media training, project and event management, fundraising and engagement campaigns. She has worked in corporate, non-profit and agency settings, and her work has touched global Fortune 50 companies, local entrepreneurs and everyone in between.
McMillin joins BuzzTheory's content team, which is known for delivering high-quality content to drive awareness, thought leadership and lead generation for high-tech clients.
"Aimee is a seasoned agency vet, with a breadth and depth of client experience," said Khali Henderson, senior partner. "We're excited to have her skillset and her love of research, writing and editing on the BuzzTheory content team."
"I was lucky to work with Cara Sievers, BuzzTheory's director or content, years ago, and I always said I'd jump at another chance to work alongside her," McMillin said. "When she told me about the opportunity to join her team at BuzzTheory, my first question was 'when?' I'm thrilled to be part of a team that emphasizes quality content as an essential marketing strategy."
With her two children nearly grown and flown, her outside interests have shifted from Parent Teacher Organization volunteer and board member to evolving yogi, outdoors enthusiast and consumer of Danish television shows ("Borgen" and "The Investigation" are recommended). She cooks enthusiastically and reads avidly, and she considers herself a recovering triathlete.
McMillin is a graduate of the College of Charleston (S.C.) where she earned a bachelor of arts degree in History and French and The University of Memphis where she earned a masters degree in in Journalism with a concentration in Public Relations. She lives in Memphis, Tenn., with her husband and daughter, two cats and occasionally her college-age son.
About BuzzTheory
BuzzTheory is a leading content, channel and revenue marketing firm serving technology companies. We help you build, grow and monetize relationships with customers, sales partners, investors and the media. A study by Forrester named BuzzTheory one of the five most recommended channel marketing and PR firms in the world. For more information, visit: www.buzztheory.com
Media Contact:
Khali Henderson
Senior Partner
BuzzTheory Strategies
480.999.5297
khenderson@buzztheory.com